Sat. morning 9:00 started from Huaihai Rd. Fenyang Rd. on a 45km ride (roundtrip 90km!) to Xinchang Old Town. Braving through 0-2 °C all the way!
Keyword: COLD!
Journey: Fun
Aftermath: I was paralysed

查看Xinchang Old Twon Ride 新场古镇骑行 的大地图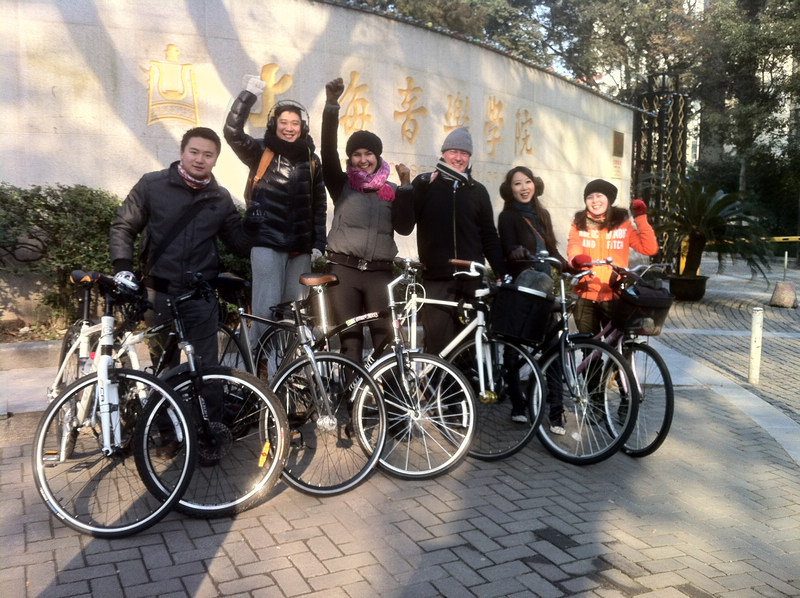 Ready to go!
↑ Photo by the organizer, Harry (@大脚骑天下)
After the ferry ride, awaiting for more riders to join.
Harry and his fixie.↑
Echo and The Yellow One↑ (The same frame bike was featured in the Jianguo Rd. GIANT store post)
The girls↑
Paul showing off his hidden muscles. ↑
Getting windproof protections. ↑
Opposite the Bund in Pudong, near Expo ↑
Arrived! My friend Elena, who rode my pink little bike ↑
Yep, that's me passing by one of the old watertown house. (It is now the profile pic of CityBikr Facebook page)
The ride home was exhausting. On the final few kilometers, my only living wish is to see the sweet tip hole of SWFC tower again. And I'm soooo proud that I made it with just a simple city bike. 😉
Want to see more photos of the water town? Check my Flickr.周六早上9点从上海音乐学院(淮海路汾阳路)出发到浦东新场古镇的 45公里骑行(来回90km!)。一路上温度都在3°C一下,到了古镇就到冰点0°C了。腿冻得僵硬~ T_T
关键词:冷!
旅途:乐
后果:全身瘫倒软绵

查看大的 Xinchang Old Twon Ride 新场古镇骑行 地图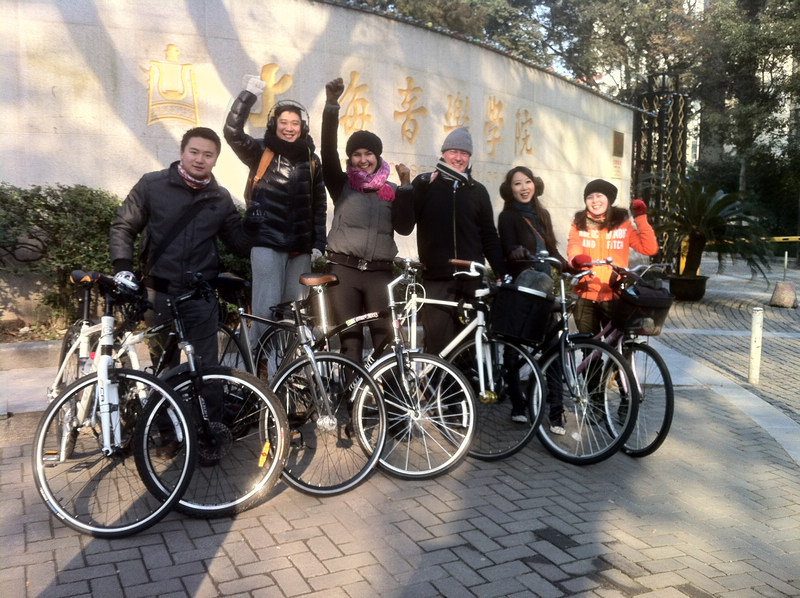 ↑出发!照片来自组织者Harry (@大脚骑天下)
渡轮到浦东,等待更多骑友加入
Harry和他的死飞。↑
Echo (同车架车之前在 建国路衡山路捷安特专卖店一文中展示过哦!)
女生们↑
Paul展示他深藏不露的肌肉 ↑
三个外国朋友在街边摊贩采购防风用品↑
靠近世博滨江集体合照 ↑
饱餐一顿羊肉汤、面之后顺利到达。Elena一路骑我的粉红小车,可累了 ↑
↑ 我骑过一老房子。
回去的路途可不简单,累得我够呛!80多公里后我唯一的生存愿望就是再次看到环球金融中心的顶洞。
更多古镇照片可以看我的 Flickr.